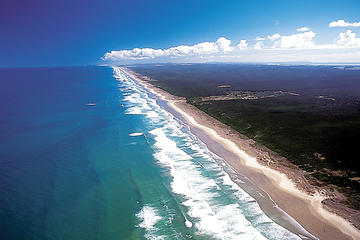 Take an action-packed day trip from Paihia to the tip of New Zealand's North Island on a guided tour of Cape Reinga! The Waverider coach, built to traverse sand, will drive you down the rugged coastline of Ninety Mile Beach. You'll also see the mystical kauri trees, go sand boarding and dig for shellfish. Explore one of the most amazing stretches of coastline in Oceania on a custom-built Waverider coach that keeps you comfortable as it moves effortlessly over sandy beaches, rugged roads and quicksand streams.

Start your New Zealand North Island adventure day trip with a stop at the Puketi Forest, home to 1,000-year-old kauri trees, some of the most ancient trees in the world. Walk along a ground-level boardwalk that meanders around the trunks of the trees and learn more about the area from the information panels located throughout the walk. After you leave the Puketi Forest, you'll head to Houhora Harbour, where you will enjoy a buffet lunch at Houhora Game Fishing Club . Later you will go to Cape Reinga, the northernmost tip of New Zealand. You'll feel as though you're standing on the edge of the world as you watch the Pacific Ocean collide with the Tasman Sea.

From Cape Reinga, your tour continues down the North Island's coast. Your first stop is the giant sand dunes at the Te Paki Quicksand Stream, where you can try your hand at sandboarding. Experience an exhilarating ride down the face of a dune on a boogie board! Finally, get back on the Waverider coach and head south on Ninety Mile Beach. This strikingly beautiful stretch of unpopulated beach, is a marked contrast to the bustle of the island's East Coast, and you will have plenty of opportunities to stick your toes in the sand and help your guide dig for shellfish before returning to Paihia.

Lunch is included in the price.

Accommodation pick up and drop off in Paihia is included.