Bus and Coach Services From Hastings

Explore New Zealand's North Island with its unique 7 unique geographical regions and diverse natural beauty, from soaring mountain peaks, fiords, lakes, rivers, native rugged bush, the majestic volcanoes of the North Island's central plateau to the central North Island skifields of Whakapapa and Turoa by bus and coach from Hastings.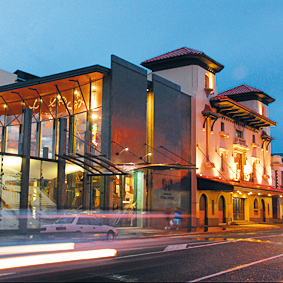 Hastings city is a major urban settlement in the Hawke's Bay Region of the North Island of New Zealand, and the administrative centre of the Hastings District.

Hastings is located some 20 km inland from the neighbouring port city of Napier.

Located 15 kms from Napier, Hastings and the surrounding district is a part of the Hawke's Bay region, which is located on the East Coast of the North Island.

The natural assets of the area allow varied year-round activities, which include surf beaches, rivers, lakes and native forest.

Hasting city has a superb blend of historic Spanish Mission architecture and avant garde art and sculpture adorning the expansive piazzas.

Bustling but never too hectic and is very welcoming of tourists. There is always time to soak up the Hawke's Bay sunshine and add to this, wineries on the plains.

The Hawke's Bay Opera House, Splash Planet theme park, entertainment, shopping café experiences, beautiful coastal beaches, notably Ocean Beach and Waimarama Beach and is a fantastic destination to live, work, play and visit!

Travelling from Hastings is in modern buses and coaches with InterCity Coachlines operating a fleet of eco-friendly air conditioned buses with reclining seats and foot rests. Great Sights and Newmans Coachlines operate premier services using a fleet of modern eco-friendly air conditioned coaches featuring reclining seats with foot and head rests and onboard toilet/washroom facilities.

If you want to explore and see New Zealand's unique scenic beauty from Hastings, there are a range of flexible 'Book As You Go' bus, scenic coach, ferry travel and sightseeing passes giving you value for money travel.

Your 'Book As You Go' flexible bus, scenic coach and ferry pass, allows you to travel through out New Zealand on New Zealand's largest regional and national bus, coach, scenic coach, ferry and sightseeing network, that includes Cook Strait ferry sailings between the North and South Islands, sightseeing tours - like dolphin watching cruises in the Bay of Islands and lots more. Travel is discounted, so you will be saving money, as you travel plus it gives you total freedom to alter your plans whenever you want.

Set your own itinerary and travel when you want, as your 'Book As You Go' flexible bus, scenic coach and ferry pass is valid for 12 months so you can stay a while and leave when you please.