Bus and Coach Services From Invercargill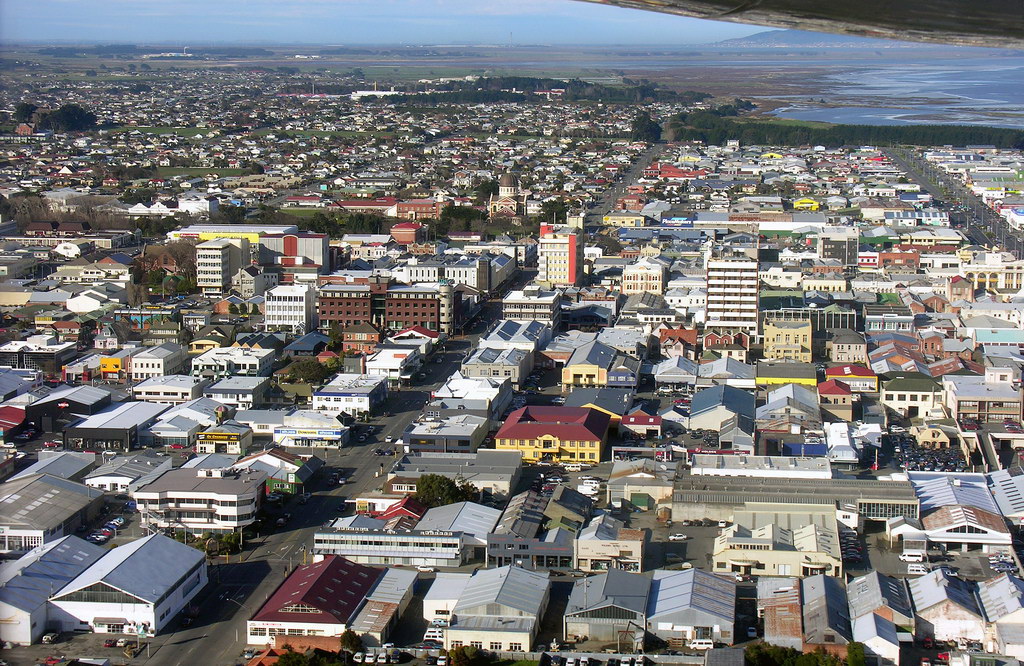 Invercargill (Waihōpai in Māori) (Pop 48,300) is the southern most and western most city in New Zealand. It is the commercial centre of the Southland region.

Invercargill lies in the heart of the wide expanse of the Southland Plains on the Oreti or New River some 18 km north of Bluff, which is the southernmost town in the South Island.

Invercargill sits amid rich farmland that is bordered by large areas of conservation land and marine reserves, including Fiordland National Park covering the south-west corner of the South Island.
Built in the late 19th and early 20th century, its wide streets and century old buildings give the visitor a unique feeling of stepping back in time to when business was conducted in a more sedate and considered manner and the streets were paved with Otago gold.

Invercargill is located 221 kms southwest of Dunedin and is the gateway to Stewart Island and Fiordland National Park.
Mainly of scottish origin, Invercargill is a service centre for the rich Southland farmlands. It is a commercial centre and can be used as a base for exploring the other areas of Southland, Fiordland, the Catlins Coast and Stewart Island.
The city of Invercargill offers many opportunities, fine heritage buildings, excellent shopping facilities and the warm southern hospitality of the locals.

Using Invercargill as your base, you can explore nearby Fiordland and Queenstown (an easy two-hour drive), the Catlins Coast and Rakiura National Park. It boasts an abundance of golf courses, parks, cafés, art galleries, theatres, conference centres and excellent sporting facilities, including a leisure centre and swimming and aquatic centre.

The city also offers visitors a variety of accommodation, restaurants and shopping, plus good transport links to other main centres. Priority attractions are the Southland Museum and Art Gallery where you can experience the Roaring '40s exhibition, and the largest public display of tuatara (spiny-backed reptile native to New Zealand) in the world.
Travelling from Invercargill is in modern buses and coaches with InterCity Coachlines operating a fleet of eco-friendly air conditioned buses with reclining seats and foot rests. Great Sights and Newmans Coachlines operate premier services using a fleet of modern eco-friendly air conditioned coaches featuring reclining seats with foot and head rests and onboard toilet/washroom facilities.

InterCity Coachlines Starlighter overnight coach services between Wellington, Palmerston North, Taupo, Rotorua, Hamilton and Auckland or vice versa, connects at Wellington with Cook Strait ferry services from Picton to Wellington operating between the South and North Islands. The Starlighter service features reclining seats with foot and head rests, individual reading lights and air conditioning controls, onboard toilet/washroom facility and makes two refreshment/comfort stops on route.

If you want to explore and see New Zealand's unique scenic beauty from Invercargill, there are a range of flexible 'Book As You Go' bus, scenic coach, ferry travel and sightseeing passes giving you value for money travel.

Your 'Book As You Go' flexible bus, scenic coach and ferry pass, allows you to travel through out New Zealand on New Zealand's largest regional and national bus, coach, scenic coach, ferry and sightseeing network, that includes Cook Strait ferry sailings between the North and South Islands, sightseeing tours - like dolphin watching cruises in the Bay of Islands and lots more. Travel is discounted, so you will be saving money, as you travel plus it gives you total freedom to alter your plans whenever you want.

Set your own itinerary and travel when you want, as your 'Book As You Go' flexible bus, scenic coach and ferry pass is valid for 12 months so you can stay a while and leave when you please.