Bus and Coach Services From Kaikoura

Explore New Zealand's South Island with its unique 8 unique geographical regions and diverse natural beauty, from soaring mountain peaks of the Southern Alps, fiords, glaciers, lakes, rivers, native alpine bush landscape of national parks and the southern skifields by bus and coach from Kaikoura.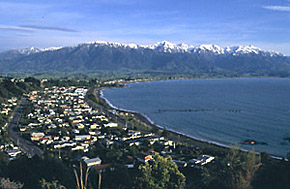 Kaikoura (Pop: 2173) is located 132kms south of Kaikoura and 180kms north of Christchurch, is situated on rocky coastline - Kaikoura is renowned as the whale watching centre of New Zealand and 'Swimming with the Dolphins'.

The town has a strikingly beautiful setting, as the Seaward Kaikoura mountains, a branch of the Southern Alps come nearly to the sea at this point on the coast. Because of this, there are many walking tracks up and through the mountains.

A common one for tourists is the Mt. Fyffe track, which winds up Mt. Fyffe, and gives a panoramic view of the Kaikoura peninsula from the summit.
The name 'Kaikoura' translates to 'meal of crayfish' ('kai'- food/meal, 'koura' - crayfish) and the crayfish industry still plays a role in the economy of the region.

However Kaikoura has now become a popular tourist destination, mainly for whale watching (the Sperm Whale watching is perhaps the best and most developed in the world) and swimming with or near dolphins and seals. There is also a large and readily observed colony of Southern Fur Seals at the eastern edge of the town. At low tide, better viewing of the seals can be had as the ocean gives way to a rocky base which is easily navigable by foot for quite some distance.
Kaikoura's major event is the 'Seafest' which is held in October. Besides the rich marine mammals and birdlife, Kaikoura can offer the visitor a range of activities from early whaling exhibits, 4WD driving, horse trekking, farms tours to skiing at Mt Lyford Skifield only a hour's drive from Kaikoura.

Travelling from Kaikoura is in modern buses and coaches with InterCity Coachlines operating a fleet of eco-friendly air conditioned buses with reclining seats and foot rests. Great Sights and Newmans Coachlines operate premier services using a fleet of modern eco-friendly air conditioned coaches featuring reclining seats with foot and head rests and onboard toilet/washroom facilities.

InterCity Coachlines Starlighter overnight bus services operating from Wellington to Palmerston North, Taupo, Rotorua, Hamilton and Auckland connecting a Wellington with the Cook Strait ferry services operating between Picton in the South Island to Wellington in the North Island.

The Starlighter overnight services features reclining seats with foot and head rests, individual reading lights and air conditioning controls, onboard toilet/washroom facility and makes two refreshment/comfort stops on route.

There is combined bus and ferry travel allowing you to make one reservation, pay one fare and travel on one ticket, from Kaikoura to Wellington, Palmerston North, Taupo, Rotorua, Hamilton, Paihia (Bay of Islands) and Auckland.

If you want to explore and see New Zealand's unique scenic beauty from Kaikoura, there are a range of flexible 'Book As You Go' bus, scenic coach, ferry travel and sightseeing passes giving you value for money travel.

Your 'Book As You Go' flexible bus, scenic coach and ferry pass, allows you to travel through out New Zealand on New Zealand's largest regional and national bus, coach, scenic coach, ferry and sightseeing network, that includes Cook Strait ferry sailings between the North and South Islands, sightseeing tours - like dolphin watching cruises in the Bay of Islands and lots more. Travel is discounted, so you will be saving money, as you travel plus it gives you total freedom to alter your plans whenever you want.

Set your own itinerary and travel when you want, as your 'Book As You Go' flexible bus, scenic coach and ferry pass is valid for 12 months so you can stay a while and leave when you please.