Bus and Coach Services From Tekapo/Lake Tekapo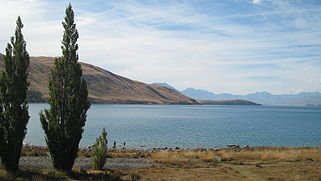 Explore New Zealand's South Island with its unique 8 unique geographical regions and diverse natural beauty, from soaring mountain peaks of the Southern Alps, fiords, glaciers, lakes, rivers, native alpine bush and the southern skifields by bus and coach from Tekapo/Lake Tekapo.

The township of Tekapo is located in the centre of the South Island of New Zealand lies Lake Tekapo This highland lake and settlement at 710 meters (2300 feet) is in the heart of the Mackenzie District, close to Aoraki Mt Cook National Park and surrounded by a vast alpine basin of golden tussock grass.

Lake Tekapo is a popular tourist destination and is near the town of Tekapo which is a full service town and offering a range of accommodation in the township. The lake's outflow into the Tekapo River is close to the township.

Lake Tekapo is at the upper end of the Waitaki hydroelectric scheme and as such, several dams and artificial canals are found near its outflow, linking it with Lake Pukaki.

The name Tekapo derives from Maori words Taka (sleeping mat) and Po (night). Finely ground rock in the glacial melted waters give Lake Tekapo a beautifully unique turquoise colour.

Lake Tekapo 's geographical and central location is protected from rough coastal weather by the Southern Alps in the west and the Two Thumb Range to the east. This allows this highland location to enjoy some of New Zealand's highest sunshine hours and lowest average wind speeds. Rainfall is just 575 millimeters (23 inches) annually.

Summer or winter, snow-covered or golden yellow, the surrounding mountains and turquoise lake make a spectacular backdrop for the Church of the Good Shepherd. Lake Tekapo being the base for the Mount John University Observatory and due to clear atmosphere, large number of clear sky nights, and lack of light pollution, makes Lake Tekap an ideal location to reveal an unforgettable night sky.

Travelling from Tekapo/Lake Tekapo is in modern buses and coaches with Newmans Coachlines operating a fleet of eco-friendly air conditioned buses with reclining seats and foot rests. Great Sights and Newmans Coachlines operate premier services using a fleet of modern eco-friendly air conditioned coaches featuring reclining seats with foot and head rests and onboard toilet/washroom facilities.

If you want to explore and see New Zealand's unique scenic beauty from Tekapo/Lake Tekapo, there are a range of flexible 'Book As You Go' bus, scenic coach, ferry travel and sightseeing passes giving you value for money travel.

Your 'Book As You Go' flexible bus, scenic coach and ferry pass, allows you to travel through out New Zealand on New Zealand's largest regional and national bus, coach, scenic coach, ferry and sightseeing network, that includes Cook Strait ferry sailings between the North and South Islands, sightseeing tours - like dolphin watching cruises in the Bay of Islands and lots more. Travel is discounted, so you will be saving money, as you travel plus it gives you total freedom to alter your plans whenever you want.

Set your own itinerary and travel when you want, as your 'Book As You Go' flexible bus, scenic coach and ferry pass is valid for 12 months so you can stay a while and leave when you please.