Bus and Coach Services From Milford Sound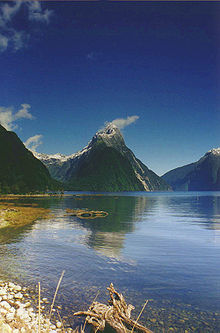 Milford Sound (Piopiotahi in Māori) (Pop: 80) is a fjord carved by glacial action in the south west of New Zealand's South Island, within Fiordland National Park and the Te Wahipounamu World Heritage site. It has been judged the world's top travel destination in an international survey and is acclaimed as New Zealand's most famous tourist destination.

Milford Sound is 295 km from Queenstown and 279 km from Invercargill (about four hours' drive), with most of the tour buses to the sound departing from Queenstown and 121 kms from Te Anau.
The drive to Milford Sound itself passes through unspoiled mountain landscapes before entering the 1.2 km Homer Tunnel which emerges into rain-forest-carpeted canyons that descend to the sound. The winding mountain road, while of high standards, is very prone to avalanches and closures during the winter half of the year.

Mitre Peak, apparently the most perfect cone from the land, when seen from the water is revealed as part of a chain of peaks. Milford Sound has hanging valleys of native flora and fauna carry fresh water to the sea. Milford Sound has a wide range of native wildlife.

Tramping, canoeing and some other water sports are also possible. A small number of companies also provides overnight boat trips. There is otherwise only limited accommodation at the sound, and only a very small percentage of tourists stay more than the day.
An underwater tourist observatory found in one of the bays of the sound provides viewing of black coral, usually only found in much deeper waters. A dark surface layer of fresh water, stained by tannins from the surrounding forest, allows the corals to grow close to the surface here
Like the rest of Fiordland, Milford Sound receives a lot of rain. Indeed, some tour operators argue that the sound is best seen on a rainy day as all the waterfalls can be seen in their full glory. Many recommend seeing it during a sunny day and in the rain to see both worlds as they are both very different and amazing.
When visiting Milford Sound and its natural beauty, do not forget insect repellent due to sand flies in the late afternoon early evening and a raincoat as weather can change without notice
Travelling from Milford Sound is in modern buses and coaches with InterCity Coachlines operating a fleet of eco-friendly air conditioned buses with reclining seats and foot rests. Great Sights and Newmans Coachlines operate premier services using a fleet of modern eco-friendly air conditioned coaches featuring reclining seats with foot and head rests and onboard toilet/washroom facilities.

If you want to explore and see New Zealand's unique scenic beauty from Milford Sound, there are a range of flexible 'Book As You Go' bus, scenic coach, ferry travel and sightseeing passes giving you value for money travel.

Your 'Book As You Go' flexible bus, scenic coach and ferry pass, allows you to travel through out New Zealand on New Zealand's largest regional and national bus, coach, scenic coach, ferry and sightseeing network, that includes Cook Strait ferry sailings between the North and South Islands, sightseeing tours - like dolphin watching cruises in the Bay of Islands and lots more. Travel is discounted, so you will be saving money, as you travel plus it gives you total freedom to alter your plans whenever you want.

Set your own itinerary and travel when you want, as your 'Book As You Go' flexible bus, scenic coach and ferry pass is valid for 12 months so you can stay a while and leave when you please.