Bus and Coach Services From Aoraki/Mt Cook National Park

Explore New Zealand's South Island with its unique 8 unique geographical regions and diverse natural beauty, from soaring mountain peaks of the Southern Alps, fiords, glaciers, lakes, rivers, native alpine bush and the southern skifields by bus and coach from Aoraki/Mt Cook.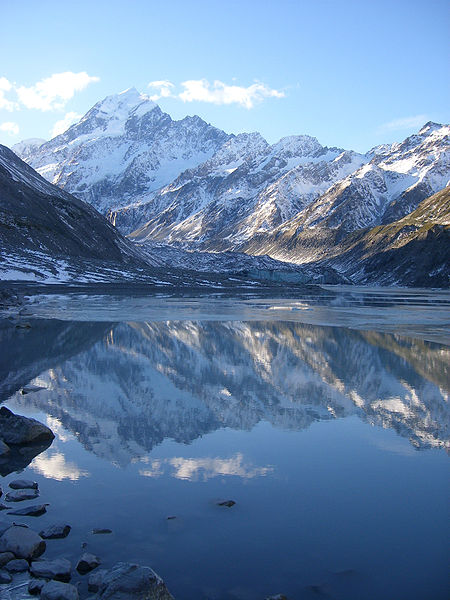 At 3,754m Mount Cook (its Maori name is Aoraki) is New Zealand's highest mountain. Nudging one side of Mt Cook is the mighty Tasman Glacier, one of the longest outside the Himalayas.

Aoraki/Mount Cook National Park (70,696 hectares) is New Zealand's great alpine park. It has the highest mountains and the largest glaciers. Aoraki/Mount Cook Village and all visitors to the park are dwarfed by the immensity of the landscape that surrounds them.
Aoraki/Mount Cook National Park was formally established as a national park in 1953 from reserves that were established as early as 1887 to protect the area's significant vegetation and landscape.

Aoraki/Mt Cook National Park is located in the central part of the South Island, deep in the heart of the Southern Alps.

The Aoraki/Mt Cook National Park is a harsh land of ice and rock. Glaciers cover 40% of it. There are 19 peaks over 3,000 metres including of course New Zealand's highest mountain, Aoraki/Mount Cook. The park is also part of Te Waipounamu - South Westland World Heritage Area in recognition of its outstanding natural values.

The glaciers that have helped shape the park's landscape include five major valley systems: Godley, Murchison, Tasman, Hooker and Mueller. The Tasman Glacier, New Zealand's largest and longest glacier, is clearly visible from the main highway at the entrance of the park.

Aoraki/Mt Cook village is located on the southern slopes of Aoraki/Mount Cook, 12 kilometres south of Aoraki/Mount Cook's summit. It is located to Lake Pukaki by Highway 80 and to the face of the Hooker Glacier, on the upper reaches of the Tasman River.
The village serves as a tourist centre and base camp for mountaineers, and lies within the borders of Aoraki/Mount Cook National Park. The Hermitage, the name of which dates back to the original hotel built in 1884, is a prominent and popular location in the village, and is sometimes used as an alternative name for the settlement. The nearest town to Aoraki/Mount Cook village is Twizel being 35 kms away.
Travelling from Mt Cook/Aorak is in modern buses and coaches with InterCity Coachlines operating a fleet of eco-friendly air conditioned buses with reclining seats and foot rests. Great Sights and Newmans Coachlines operate premier services using a fleet of modern eco-friendly air conditioned coaches featuring reclining seats with foot and head rests and onboard toilet/washroom facilities.

InterCity Coachlines operates the Starlighter overnight services between Wellington, Palmerston North, Taupo, Rotorua, Hamilton and Auckland or vice versa, connecting at Wellington with Cook Strait ferry services from Mt Cook to Wellington that operating between the South and North Islands. The Starlighter service features reclining seats with foot and head rests, individual reading lights and air conditioning controls, onboard toilet/washroom facility and makes two refreshment/comfort stops on route.

If you want to explore and see New Zealand's unique scenic beauty from Mt Cook/Aoraki, there are a range of flexible 'Book As You Go' bus, scenic coach, ferry travel and sightseeing passes giving you value for money travel.

Your 'Book As You Go' flexible bus, scenic coach and ferry pass, allows you to travel through out New Zealand on New Zealand's largest regional and national bus, coach, scenic coach, ferry and sightseeing network, that includes Cook Strait ferry sailings between the North and South Islands, sightseeing tours - like dolphin watching cruises in the Bay of Islands and lots more.

Travel is discounted, so you will be saving money, as you travel plus it gives you total freedom to alter your plans whenever you want.

Set your own itinerary and travel when you want, as your 'Book As You Go' flexible bus, scenic coach and ferry pass is valid for 12 months so you can stay a while and leave when you please.