Bus and Coach Services From Tauranga

Explore New Zealand's North Island with its unique 7 unique geographical regions and diverse natural beauty, from soaring mountain peaks, fiords, lakes, rivers, native rugged bush, the majestic volcanoes of the North Island's central plateau to the central North Island skifields of Whakapapa and Turoa by bus and coach from Tauranga.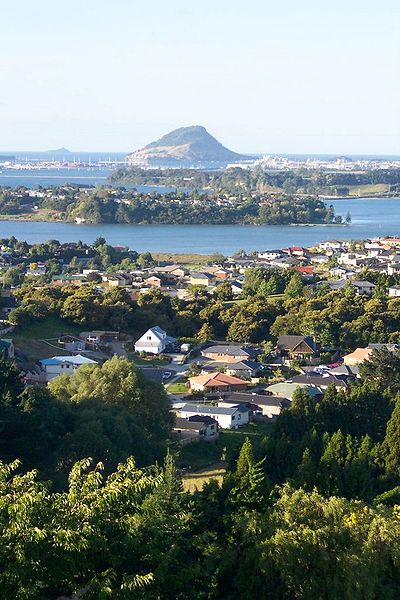 Tauranga (Pop: 127,700) is New Zealand's 6th largest city, located of the western Bay of Plenty on the east coast of the North Island of New Zealand.

Located 205kms southeast from Auckland, 105 km east of Hamilton and 85 km north of Rotorua, Tauranga - meaning "Sheltered Waters", is the largest residential and commercial area of the coastal Bay of Plenty region.

Tauranga is located at the head of a large harbour which extends along the western Bay of Plenty, and is protected by Matakana Island. The town and headland of Mount Maunganui stand at the entrance to the harbour, five kilometres north of Tauranga.

"The Mount", as it is known, is often regarded as a satellite town of Tauranga, although it is technically a suburb. Its is one of the major resort cities in New Zealand, famous for its beautiful beaches.
With its fertile lands and pleasant climate making it the centre of a large kiwi fruit and citrus growing area. With pride is its colonial heritage with Gate Pa battle site and Otamataha Pa Military Cemetery and its scenic views including the McLaren and Omanawa Falls.

Tauranga is caters for business, international trade, culture, technology, fashion, entertainment, education and science.

It is home to renowned institutions covering a broad range of professional and cultural fields and is one of the most substantial economic places, with the largest port in New Zealand, the Port of Tauranga.
Tauranga's suburbs and other areas include The Avenues, Matua, Tauriko, Otumoetai, Bethlehem, Greerton, Ohauiti, Brookfield, Maungatapu and Welcome Bay, and the northern coastal strip of Mount Maunganui, Omanu, Arataki, Bayfair, Papamoa and Papamoa East.
Tauranga Festival is held February/March and the National Jazz Festival is held at Easter.

Travelling from Tauranga is in modern buses and coaches with InterCity Coachlines operating a fleet of eco-friendly air conditioned buses with reclining seats and foot rests. Great Sights and Newmans Coachlines operate premier services using a fleet of modern eco-friendly air conditioned coaches featuring reclining seats with foot and head rests and onboard toilet/washroom facilities.

If you want to explore and see New Zealand's unique scenic beauty from Tauranga, there are a range of flexible 'Book As You Go' bus, scenic coach, ferry travel and sightseeing passes giving you value for money travel.

Your 'Book As You Go' flexible bus, scenic coach and ferry pass, allows you to travel through out New Zealand on New Zealand's largest regional and national bus, coach, scenic coach, ferry and sightseeing network, that includes Cook Strait ferry sailings between the North and South Islands, sightseeing tours - like dolphin watching cruises in the Bay of Islands and lots more. Travel is discounted, so you will be saving money, as you travel plus it gives you total freedom to alter your plans whenever you want.

Set your own itinerary and travel when you want, as your 'Book As You Go' flexible bus, scenic coach and ferry pass is valid for 12 months so you can stay a while and leave when you please.