Bus and Coach Services From Waitomo Caves

Explore New Zealand's North Island with its unique 7 unique geographical regions and diverse natural beauty, from soaring mountain peaks, fiords, lakes, rivers, native rugged bush, the majestic volcanoes of the North Island's central plateau to the central North Island skifields of Whakapapa and Turoa by bus and coach from Waitomo Caves.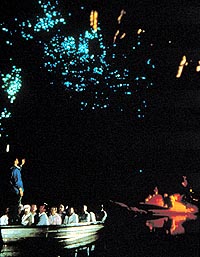 Waitomo Caves are a village and cave system forming a major tourist attraction in the southern Waikato region of the North Island of New Zealand. The community of Waitomo Caves itself is very small, though the village has many temporary service workers living there.

The word Waitomo comes from the Māori language wai meaning water and tomo meaning a doline or sinkhole; it can thus be translated to be water passing through a hole. These Caves are believed to be over two million years old. Several of the hundreds of limestone caves in the district are sites for adventure activities, including abseiling into caverns, floating through on inner tubes, or guided walks or boat trips through spectacular formations or glow-worm caves.

In addition to sightseeing at Waitomo, there is the popular Museum of Caves which operates the Visitor Information Centre. Near the picturesque village there is a walkway, the Ruakuri Bushwalk, which passes through three short caves and features unusual limestone formations. There is also a pioneer farm show and horse trekking. Jet boats and four-wheel-drive motorbikes may be hired.

Travelling from Waitomo Caves is in modern buses and coaches with InterCity Coachlines operating a fleet of eco-friendly air conditioned buses with reclining seats and foot rests. Great Sights and Newmans Coachlines operate premier services using a fleet of modern eco-friendly air conditioned coaches featuring reclining seats with foot and head rests and onboard toilet/washroom facilities.

InterCity Coachlines operates the Starlighter overnight bus service between Auckland, Hamilton, Rotorua, Taupo, Palmerston North and Wellington or vice versa, connecting at Wellington with Cook Strait ferry services from Wellington to Picton between the North and South Islands. The Starlighter service features reclining seats with foot and head rests, individual reading lights and air conditioning controls, onboard toilet/washroom facility and makes two refreshment/comfort stops on route.

If you want to explore and see New Zealand's unique scenic beauty from Waitomo Caves, there are a range of flexible 'Book As You Go' bus, scenic coach, ferry travel and sightseeing passes giving you value for money travel.

Your 'Book As You Go' flexible bus, scenic coach and ferry pass, allows you to travel through out New Zealand on New Zealand's largest regional and national bus, coach, scenic coach, ferry and sightseeing network, that includes Cook Strait ferry sailings between the North and South Islands, sightseeing tours - like dolphin watching cruises in the Bay of Islands and lots more. Travel is discounted, so you will be saving money, as you travel plus it gives you total freedom to alter your plans whenever you want.

Set your own itinerary and travel when you want, as your 'Book As You Go' flexible bus, scenic coach and ferry pass is valid for 12 months so you can stay a while and leave when you please.