Bus and Coach Services From Wanaka

Explore New Zealand's South Island with its unique 8 unique geographical regions and diverse natural beauty, from soaring mountain peaks of the Southern Alps, fiords, glaciers, lakes, rivers, native alpine bush and the southern skifields by bus and coach from Wanaka.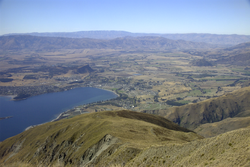 Wanaka (Pop: 5,600) is a resort town in the Central Otago region of the South Island of New Zealand 140kms north west of Queenstown.

It is situated at the southern end of Lake Wanaka, adjacent to the outflow of the lake to the Clutha River. It is the gateway to Mount Aspiring National Park.

Wanaka is primarily a resort town but has both summer and winter seasons and is based around the many outdoor opportunities.

Wanaka, with its beautiful lake and mountain views, has become a popular tourist resort, loved by many for being less commercialised than Queenstown.
Wanaka boasts a growing number of excellent restaurants, cafes and a diverse nightlife. Other attractions in the town include Puzzling World and the Paradiso Cinema.

Puzzling World contains a 3d maze, optical illusions and a leaning tower. The Paradiso is a classic old cinema, with seating consisting of old couches and a car. There are a number of wineries in the area.
A great day excursion can be had walking up neighbouring Roys Peak, from which stunning views can be seen of Wanaka and the surrounding area, including Mount Aspiring.
Wanaka is know for the famous New Zealand Fighter Pilots Museum, War Birds over Wanaka show and trout hatchery.

During the winter, Wanaka offers the broadest range of snow activity choices of any town in New Zealand. These include Treble Cone, Cardrona Alpine Resort, Snow Park and Snow Farm, some of New Zealand's premier commercial ski fields. Wanaka is the main accommodation provider for these resorts and so is very busy in high season (July-September).
The views of the Southern Alps across the gleaming water of Lake Wanaka are unparalled. Wanaka is also the gateway for the Mt Aspiring National Park.
Travelling from Wanaka is in modern buses and coaches with InterCity Coachlines operating a fleet of eco-friendly air conditioned buses with reclining seats and foot rests. Great Sights and Newmans Coachlines operate premier services using a fleet of modern eco-friendly air conditioned coaches featuring reclining seats with foot and head rests and onboard toilet/washroom facilities.

InterCity Coachlines operates the Starlighter overnight bus service between Wellington, Palmerston North, Taupo, Rotorua, Hamilton and Auckland or vice versa, connecting at Wellington with Cook Strait ferry services from Wanaka to Wellington that operating between the South and North Islands. The Starlighter service features reclining seats with foot and head rests, individual reading lights and air conditioning controls, onboard toilet/washroom facility and makes two refreshment/comfort stops on route.

If you want to explore and see New Zealand's unique scenic beauty from Wanaka, there are a range of flexible 'Book As You Go' bus, scenic coach, ferry travel and sightseeing passes giving you value for money travel.

Your 'Book As You Go' flexible bus, scenic coach and ferry pass, allows you to travel through out New Zealand on New Zealand's largest regional and national bus, coach, scenic coach, ferry and sightseeing network, that includes Cook Strait ferry sailings between the North and South Islands, sightseeing tours - like dolphin watching cruises in the Bay of Islands and lots more. Travel is discounted, so you will be saving money, as you travel plus it gives you total freedom to alter your plans whenever you want.

Set your own itinerary and travel when you want, as your 'Book As You Go' flexible bus, scenic coach and ferry pass is valid for 12 months so you can stay a while and leave when you please.