Bus and Coach Services From Auckland City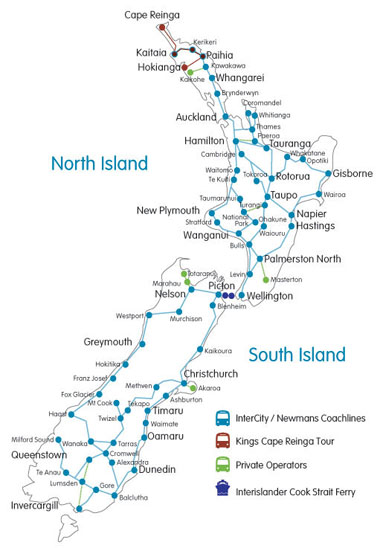 Explore New Zealand's North Island with its unique 7 unique geographical regions and diverse natural beauty, from soaring mountain peaks, fiords, lakes, rivers, native rugged bush, the majestic volcanoes of the North Island's central plateau to the central North Island skifields of Whakapapa and Turoa by bus and coach from Auckland, by clicking on the destination you would like to travel to on the left or on the route map located on the right.

Auckland is the largest and most populous urban area in New Zealand, with a population nearly 1.4 million and increasingly cosmopolitan, Auckland has the largest Polynesian population of any city in the world and has seen many people of Asian ethnicity move there in the last two decades.

Auckland lies between the Hauraki Gulf of the Pacific Ocean to the east, the low Hunua Ranges to the south-east the Manukau Harbour to the south-west and the Waitakere Ranges and smaller ranges to the west and north-west.

The central part of the urban area occupies a narrow isthmus between the Manukau Harbour on the Tasman Sea and the Waitemata Harbour on the Pacific Ocean.

Auckland is popularly known as the "City of Sails" because the harbour is often dotted with hundreds of yachts and has more per capita than any other city in the world.

Auckland is where everyone lives within half an hour of beautiful beaches, hiking trails and a dozen enchanted holiday islands. Add a sunny climate, a background rhythm of Polynesian culture and a passion for outstanding food, wine and shopping, you are now beginning to get the picture of Auckland.

Auckland's blend of South Pacific Islands Polynesian culture, glistening harbours and modern city environment including High Street, Queen Street, Ponsonby Road, and Karangahape Road are very popular with urban socialites. Newmarket and Parnell are up-market shopping areas and the Viaduct Basin where the two America's Cup challenges (2000 Cup and 2003 Cup) where hosted.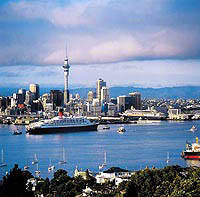 Many national treasures are displayed at the Auckland Art Gallery, while many other significant cultural artefacts reside at the Auckland War Memorial Museum, the National Maritime Museum, or the Museum of Transport and Technology (MOTAT).

Exotic creatures can be observed at the Auckland Zoo and Kelly Tarlton's Underwater World. Movies and rock concerts (notably, the "Big Day Out") are well patronised.

The Auckland region is an antipasto of environments laid out on a huge platter to make one amazing city, boasting three harbours, two mountain ranges, 48 volcanic cones and more than 50 islands making one of the few cities in the world to have harbours on two separate major bodies of water.

Travelling from Auckland is on modern eco-friendly air conditioned InterCity Coachlines buses and coaches that feature reclining seats with foot and foot rests.

Great Sights operates premier sightseeing touring services from Auckland, using a fleet of modern eco-friendly air conditioned coaches featuring reclining seats with foot and head rests, onboard toilet/washroom facilities and guided commentary.

InterCity Coachlines Starlighter overnight bus service between Auckland to Hamilton, Rotorua, Taupo, Palmerston North and Wellington, connects with the Cook Strait ferry services operating between Wellington in the North Island to Picton in the South Island with connecting bus services to and from Picton, Blenheim, Nelson, Kaikoura and Christchurch.

The Starlighter overnight services features reclining seats with foot and head rests, individual reading lights and air conditioning controls, onboard toilet/washroom facility and makes three refreshment/comfort stops on route.

There are regular daily bus and coach services from Auckland city to Auckland International Airport.

With combined bus and ferry travel and fare options, you can make one reservation, pay one fare and travel on one ticket, from Auckland to Nelson, Picton, Blenheim, Kaikoura and Christchurch.

If you want to explore and see New Zealand's unique scenic beauty from Auckland, there are a range of flexible 'Book As You Go' bus, scenic coach, ferry travel and sightseeing passes giving you value for money travel.

Your 'Book As You Go' flexible bus, scenic coach and ferry pass, allows you to travel through out New Zealand on New Zealand's largest regional and national bus, coach, scenic coach, ferry and sightseeing network, that includes Cook Strait ferry sailings between the North and South Islands, sightseeing tours - like dolphin watching cruises in the Bay of Islands and lots more.

Travel is discounted, so you will be saving money, as you travel plus it gives you total freedom to alter your plans whenever you want.

Set your own itinerary and travel when you want, as your 'Book As You Go' flexible bus, scenic coach and ferry pass is valid for 12 months so you can stay a while and leave when you please.