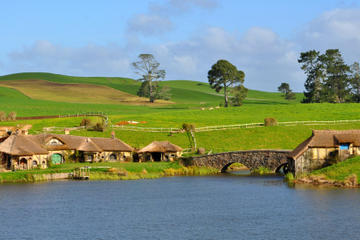 See two magical places come to life on this day tour from Auckland. First explore the Waitomo Glowworm Caves and be entranced by the thousands of twinkling lights in the glowworm grotto. Then visit the Hobbiton Movie Set, the filming location of the village of Bilbo Bagins and his fellow hobbits in 'The Lord of the Rings' movie trilogy.

Leave Auckland behind and enjoy the scenic drive through the Waikato and King Country regions of New Zealand's North Island. Enjoy a snack (included) on the coach and admire the rolling hills and lush farmlands, as you travel through Rangariri, where a fierce battle for land rights between British colonialists and the Maori took place, to Waitomo village – the home of the renowned Waitomo Glowworm Caves.

Take a guided tour through the caves and see the amazing limestone formations created over the centuries, for a short boat ride along the river to witness the magic of the glow worms.

After leaving Waitomo Caves, enjoy a picnic lunch (included) before continuing on toward Rotorua, driving across the Kaimai Ranges and making your way to Matamata, where you'll visit the Hobbiton Movie Set! Discover how this working sheep farm was transformed into JRR Tolkien's fictional village of Hobbiton – part of the Shire and home of Bilbo Bagins – for The Lord of the Rings movie series. Have your photo taken in front of a hobbit hole and see the Green Dragon Inn, the Mill and other locations that you'll recognize from the three movies, all of which were filmed around New Zealand

Travel can be from Auckland and back to Auckland or one way travel from Auckland to Rotorua.

Accommodation pick up and drop off in Auckland or pick up in Auckland and drop off in Rotorua is included.

You can add to this tour, a range of half and full day sightseeing attractions in and from Rotorua.