Explore New Zealand's North Island with its unique 7 unique geographical regions and diverse natural beauty, from soaring mountain peaks, fiords, lakes, rivers, native rugged bush, the majestic volcanoes of the North Island's central plateau to the central North Island skifields of Whakapapa and Turoa by bus and coach from Rotorua.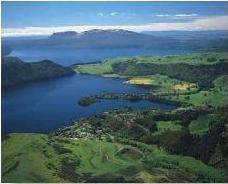 Rotorua (Pop: 55,600) (from Māori: Te Rotorua-nui-a-Kahumatamomoe, "The second great lake of Kahumatamomoe") is a city on the southern shores of the lake of the same name, in the Bay of Plenty region of the North Island of New Zealand.

The city is in the heart of the North Island, just 60 kilometres (37 mi) south of Tauranga, 80 kilometres (50 mi) north of Taupo, 105 kilometres (65 mi) east of Hamilton, and 230 kilometres (140 mi) southeast of Auckland.
Rotorua is a major destination for both domestic and international tourists, with the tourism industry being by far the largest industry in the district. The city is known for its geothermal activity, with a number of geysers, notably the Pohutu Geyser at Whakarewarewa, and hot mud pools located in the city. This thermal activity owes itself to the Rotorua caldera on which the city lies.

Rotorua is also a top adventure destination and is New Zealand's Maori cultural heartland.
Rotorua welcomes you, with true warmth. It's offering you the very best Rotorua can give, of the people, the history, the land. It's about looking after you, and its something Rotorua takes great pride in. Te Arawa people were New Zealand's first hosts, guiding visitors safely across the waters of Lake Tarawera to the splendid Pink and White Terraces.

Their descendants are the Maori you meet today. Rotorua is like no other place, its spirit expressed by its stunning landscape. Its raw beauty has enchanted visitors from around the world for more than 160 years. Stand upon active volcanoes, peer into massive craters - see boiling mud, exploding geysers and enjoy unspoiled native forests that cloak the land. And throughout this vista are 14 crystal lakes, brimming with trout and awaiting your tender hook.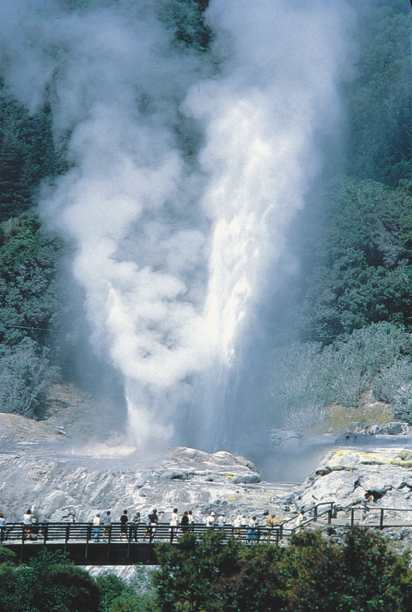 Rotorua is a vibrant, modern city with so many attractions and activities, your most difficult task will be to decide how much you can cram into the time you have.
It's very compact - there's no traffic congestion, and you can easily get around town on foot.

Travelling from Rotorua is on modern eco-friendly air conditioned InterCity Coachlines buses and coaches that feature reclining seats with foot and foot rests.

Great Sights operate premier sightseeing and touring coach services using a fleet of modern eco-friendly air conditioned coaches featuring reclining seats with foot and head rests, onboard toilet/washroom facilities and guided commentary.

InterCity Coachlines Starlighter overnight bus services between Rotorua, Hamilton, Taupo, Palmerston North and Wellington connects at Wellington with the Cook Strait ferry services operating between Wellington in the North Island to Picton in the South Island, with connecting bus services to and from Picton, Blenheim, Nelson, Kaikoura and Christchurch.

The Starlighter overnight service features reclining seats with foot and head rests, individual reading lights and air conditioning controls, onboard toilet/washroom facility and makes two refreshment/comfort stops on route.

There is combined bus and ferry travel allowing you to make one reservation, pay one fare and travel on one ticket, from Rotorua to Nelson and Blenheim.

If you want to explore and see New Zealand's unique scenic beauty from Rotorua, there are a range of flexible 'Book As You Go' bus, scenic coach, ferry travel and sightseeing passes giving you value for money travel.

Your 'Book As You Go' flexible bus, scenic coach and ferry pass, allows you to travel through out New Zealand on New Zealand's largest regional and national bus, coach, scenic coach, ferry and sightseeing network, that includes Cook Strait ferry sailings between the North and South Islands, sightseeing tours - like dolphin watching cruises in the Bay of Islands and lots more. Travel is discounted, so you will be saving money, as you travel plus it gives you total freedom to alter your plans whenever you want.

Set your own itinerary and travel when you want, as your 'Book As You Go' flexible bus, scenic coach and ferry pass is valid for 12 months so you can stay a while and leave when you please.