Bus and Coach Services From Blenheim

Explore New Zealand's South Island with its unique 8 unique geographical regions and diverse natural beauty, from soaring mountain peaks of the Southern Alps, fiords, glaciers, lakes, rivers, native alpine bush and the southern skifields by bus and coach from Blenheim.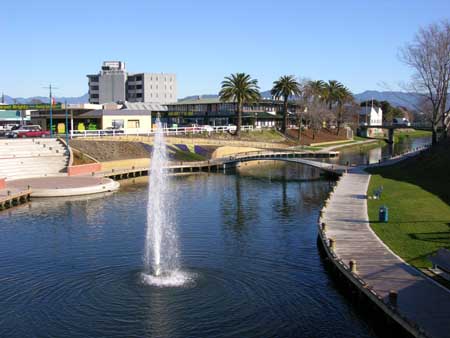 Blenheim is the commercial and administrative centre for the Marlborough region and is one of the sunniest towns in New Zealand and
Located on the banks of the Taylor and Opawa Rivers, Blenheim with a population of 29,700, is the of New Zealand's wine industry as it enjoys one of New Zealand's sunniest climates, with hot, relatively dry summers and crisp winters.

Seymour Square and Pollard Park are two of the town's main attractions for walks and general tourism.

In a 15km radius of Blenheim the is a large range of wineries and boutique beer breweries. Besides the wineries and beer breweries, there is extensive farming surrounding the Town.

Omaka Aerodrome, south of the town centre, is the Omaka Aviation Heritage Centre, that has a large collection of restored classic aircraft, with a large emphasis on aircraft of World War One, featuring Sir Peter Jackson's own collection of WW1 aircraft and artifacts.

Omaka aerodrome is also the setting for the two-yearly Classic Fighters Marlborough airshow, that is held biannually.

The first weekend in February sees the festival "Blues, Brews and BBQ's", which comprises of Blues and Jazz music, food and a variety of Beer and wine. It starts at 12pm and ends at 7pm, and its located at the A and P park near Redwood Town.

Travelling from Blenheim is in modern buses and coaches with InterCity Coachlines operating a fleet of eco-friendly air conditioned buses with reclining seats and foot rests.

Great Sights and Newmans Coachlines operate premier services using a fleet of modern eco-friendly air conditioned coaches featuring reclining seats with foot and head rests and onboard toilet/washroom facilities.

InterCity Coachlines operates the Starlighter overnight bus service that operates between Wellington, Palmerston North, Taupo, Rotorua, Hamilton and Auckland, connecting at Wellington with Cook Strait ferry services from Picton in the South Island to Wellington in the North Island.

The Starlighter service features reclining seats with foot and head rests, individual reading lights and air conditioning controls, onboard toilet/washroom facility and makes two refreshment/comfort stops on route.

With combined bus and ferry travel and fare options, you can make one reservation, pay one fare and travel on one ticket, from Blenheim to Wellington, Palmerston North, Taupo, Rotorua, Hamilton, Paihia (Bay of Islands) and Auckland.

If you want to explore and see New Zealand's unique scenic beauty from Blenheim, there are a range of flexible 'Book As You Go' bus, scenic coach, ferry travel and sightseeing passes giving you value for money travel.

Your 'Book As You Go' flexible bus, scenic coach and ferry pass, allows you to travel through out New Zealand on New Zealand's largest regional and national bus, coach, scenic coach, ferry and sightseeing network, that includes Cook Strait ferry sailings between the North and South Islands, sightseeing tours - like dolphin watching cruises in the Bay of Islands and lots more.

Travel is discounted, so you will be saving money, as you travel plus it gives you total freedom to alter your plans whenever you want.

Set your own itinerary and travel when you want, as your 'Book As You Go' flexible bus, scenic coach and ferry pass is valid for 12 months so you can stay a while and leave when you please.