Bus and Coach Services From Greymouth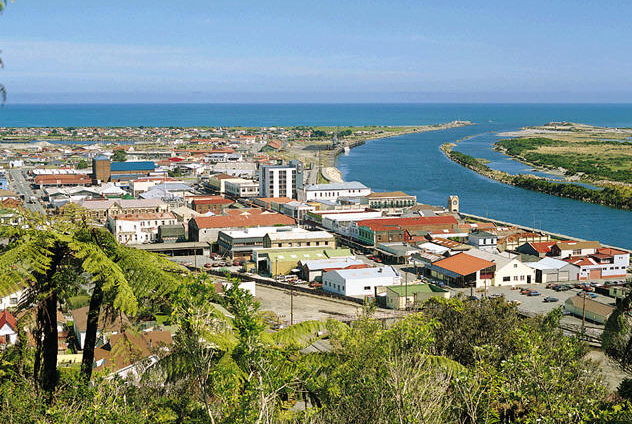 Greymouth (Pop: 9,970) is the largest town in the West Coast region on the South Island of New Zealand.

Located at the mouth of the Grey River, on a narrow coastal plain close to the foot of the Southern Alps. In clear weather, Mt Aoraki/Mount Cook can be clearly seen to the south from near the town.

Greymouth is the major town on the West Coast, boasting a range of quality hotels, motels, backpacker hostels and holiday parks with shops from small specialty and tourist shops to national chain stores. Restaurants, cafes and bars provide a hub for entertainment.
Greymouth hosts an enticing range of activities only minutes from the town centre, including the Art Gallery, History House and the walk on the flood wall which protects the town from the mighty Grey River.
The town's major industries include fishing, mining, forestry, and ecotourism, the latter two of these industries holding an uneasy relationship with each other. Greymouth is also known for its Pounamu ("Greenstone", a form of Jade) carving industry which goes back to Māori origins. The town also has a local brewery, Monteith's, which produces beer since 1868, now sold countrywide.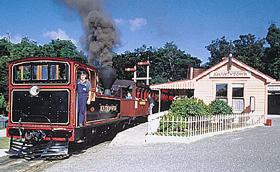 Located 10kms south of Greymouth is Shantytown, widely recognised as one of New Zealand's leading culture and heritage attractions. With its fully operational steam bush railway and over 30 historic buildings makes up a recreated 19th Century pioneer town, inspired by the West Coast gold rushes of the 1860s. Its peaceful setting amongst regenerating native forest gives visitors the opportunity to step back in time, experience a range of activities and view fascinating relics from days gone by.

The Pancake Rocks at Punakaiki, 45 km to the north are a popular local tourist attraction, while many also pass through on the route to or from the glaciers to the south.

Travelling from Greymouth is in modern buses and coaches with InterCity Coachlines operating a fleet of eco-friendly air conditioned buses with reclining seats and foot rests. Great Sights and Newmans Coachlines operate premier services using a fleet of modern eco-friendly air conditioned coaches featuring reclining seats with foot and head rests and onboard toilet/washroom facilities.

InterCity Coachlines operates the Starlighter overnight bus services between Wellington, Palmerston North, Taupo, Rotorua, Hamilton and Auckland connecting at Wellington with Cook Strait ferry services from Picton in the South Island to Wellington in the North Island. The Starlighter service features reclining seats with foot and head rests, individual reading lights and air conditioning controls, onboard toilet/washroom facility and makes two refreshment/comfort stops on route.

If you want to explore and see New Zealand's unique scenic beauty from Greymouth, there are a range of flexible 'Book As You Go' bus, scenic coach, ferry travel and sightseeing passes giving you value for money travel.

Your 'Book As You Go' flexible bus, scenic coach and ferry pass, allows you to travel through out New Zealand on New Zealand's largest regional and national bus, coach, scenic coach, ferry and sightseeing network, that includes Cook Strait ferry sailings between the North and South Islands, sightseeing tours - like dolphin watching cruises in the Bay of Islands and lots more.

Travel is discounted, so you will be saving money, as you travel plus it gives you total freedom to alter your plans whenever you want.

Set your own itinerary and travel when you want, as your 'Book As You Go' flexible bus, scenic coach and ferry pass is valid for 12 months so you can stay a while and leave when you please.