Bus and Coach Services From Picton

Explore New Zealand's South Island with its unique 8 unique geographical regions and diverse natural beauty, from soaring mountain peaks of the Southern Alps, fiords, glaciers, lakes, rivers, native alpine bush and the southern skifields by bus and coach from Picton.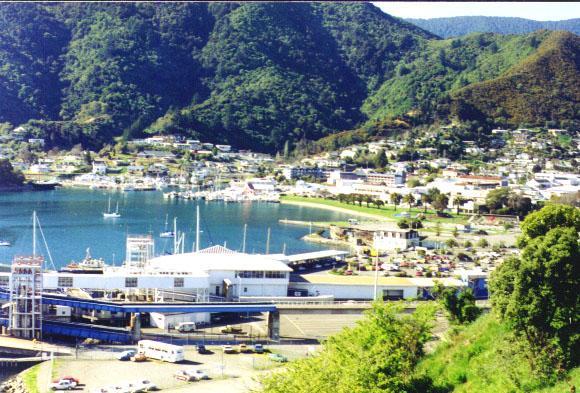 Picton (Pop 2928) is a town in the Marlborough region of the South Island and is the gateway to the Marlborough Sounds.

It is near the head of Queen Charlotte Sound in the north-east corner of the South Island. Queen Charlotte Sound is one of four Sounds that makes up the Marlborough Sounds.

Many visitors to Marlborough arrive by sea through the glorious maze of deep coves and bays of Queen Charlotte Sound.
Nestled between the mountains and the sea is Picton, an european settlement of this area began in the 1840s and many of the early buildings still grace the waterfront and wide streets of Picton.

Stroll along the boulevard where a cluster of charter operators and water taxis hold the key to further Sounds exploration.
Picton has no local bus service. The town centre is easily explored on foot. Waikawa Bay, a suburb of Picton where the majority of the regions private yachts and power boats are moored is about a 30 minute walk from town centre. If you need to get around and don't feel like driving, take a taxi. Queen Charlotte Sound is best explored by boat.

Shoppers will delight in the open, market-place atmosphere of Picton's shopping centre with its fine selection of arts, crafts, souvenir, clothing stores and cafes.

Picton is also the terminus for the famous Coastal Pacific train to and from Christchurch and Kaikoura and Cook Strait inter-island ferry services to and from Wellington crossing Cook Strait.

Travelling from Picton is in modern buses and coaches with InterCity Coachlines operating a fleet of eco-friendly air conditioned buses with reclining seats and foot rests. Great Sights and Newmans Coachlines operate premier services using a fleet of modern eco-friendly air conditioned coaches featuring reclining seats with foot and head rests and onboard toilet/washroom facilities.

InterCity Coachlines Starlighter overnight coach services between Wellington, Palmerston North, Taupo, Rotorua, Hamilton and Auckland or vice versa, connecting at Wellington with Cook Strait ferry services from Picton to Wellington that operating between the South and North Islands. The Starlighter service features reclining seats with foot and head rests, individual reading lights and air conditioning controls, onboard toilet/washroom facility and makes two refreshment/comfort stops on route.

If you want to explore and see New Zealand's unique scenic beauty from Picton, there are a range of flexible 'Book As You Go' bus, scenic coach, ferry travel and sightseeing passes giving you value for money travel.

Your 'Book As You Go' flexible bus, scenic coach and ferry pass, allows you to travel through out New Zealand on New Zealand's largest regional and national bus, coach, scenic coach, ferry and sightseeing network, that includes Cook Strait ferry sailings between the North and South Islands, sightseeing tours - like dolphin watching cruises in the Bay of Islands and lots more. Travel is discounted, so you will be saving money, as you travel plus it gives you total freedom to alter your plans whenever you want.

Set your own itinerary and travel when you want, as your 'Book As You Go' flexible bus, scenic coach and ferry pass is valid for 12 months so you can stay a while and leave when you please.